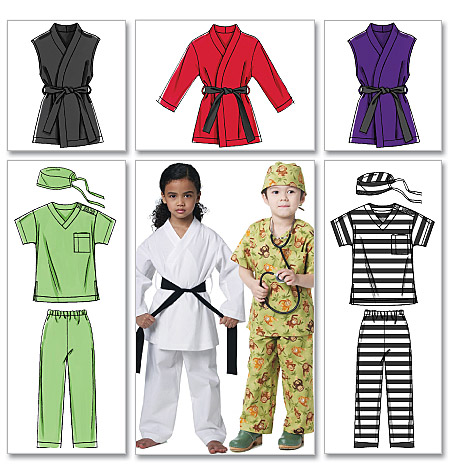 Pattern Description:
From McCall's:
CHILDREN'S, BOYS' AND GIRLS' COSTUMES:
Wrap tops A, B have stitched hems and contrast belt; top A has long sleeves; top B is sleeveless; pullover top C has neckband, short sleeves, left shoulder VELCRO
®
closure, patch pocket, side slits and stitched hem; hat D has tie ends; pants E have waist casing, back patch pocket and stitched hems.
Pattern Sizing:
Children's 2-5 I used a 4 view B for a ninja costume.
Did it look like the photo/drawing on the pattern envelope once you were done sewing with it
Yes it did. It was a little on the big side but it still worked.
Were the instructions easy to follow?
Yes they were.
What did you particularly like or dislike about the pattern?
It came together well. The only dislike was the banding around the neck and opening. It called to slip stitch the whole thing. Yea right haha. I reduced the seam allowance and turned it in and top stitched it closed.
Fabric Used:
Refashioned large men's knit t shirts.
Pattern alterations or any design changes you made:
No alterations. I just sewed it differently.
Would you sew it again? Would you recommend it to others?
If I needed another costume that uses it, then yes. I would recommend it
Conclusion:
Overall the pattern was very easy to use and my son absolutely adored it. It achieved the look we where going for and he couldn't wait to be a ninja.